Once again the Patriots have lost to the Giants after leading in the 4th quarter of the Super Bowl. Super disapointing, that game meant so much:


By Nate Davis, USA TODAY
Indianapolis - The New England Patriots were hoping to end their season with a Hail Myra. But their alst-grasp Hail Mary to end Super Bowl XLVI proved a microcosm of a game that didn't go their way.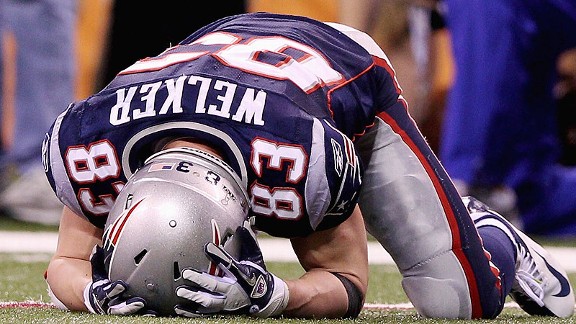 Wes Welker shows his frustration at missing a key catch in the closing minutes of the Patriots' 21-17 loss.
Trailing the New York Giants 21-17 with five seconds to go, quarterback Tom Brady heaved the ball more than half the length of the field into the end zone where it was batted by several players including defenders Jacquian Williams and Kenny Phillips and Patriots tight end Aaron Hernandez. New England tight end Rob Gronkowski, playing on an injured ankle, dived for the carom, but it landed untouched. Ball game.
"It was a jump-ball play. Aaron did a good job," Gronkowski said. "We almost had it.
"I was close, but that doesn't matter at all. We didn't get it."
The play hardly registered as a mistake by New England, though it did rank among their missed opportunities in a game where the Patriots also made their share of errors.
In the two drives bridging the second and third quarters, Brady was 15-for-15 for 152 yards and two TDs. The remainder of the night he was 12 of 26 for 124 yards while throwing a costly interception in the fourth quarter. He was called for intentional grounding from his end zone on the Patriots' first offensive snap, giving New York a 2-0 first-quarter lead.
Sure-handed Wes Welker caught seven of the eight balls thrown in his direction for 60 yards. The other one? He dropped it with four minutes to go and the Patriots up 17-15 with the Giants possessing just one timeout. If Welker, who led the NFL with 122 catches in 2011 snares it, New England potentially runs out the clock or puts the game out of reach with another score.
"Biggest moment of my life, and (I) don't come up with it," said Welker. "It's discouraging."
Despondent over feeling he'd cost his team the win, Welker also offered: "I've just got to make the play. It's a play I've made 1,000 times in practice and everything else."
Patriots defensive back Sterling Moore seemingly killed a first-quarter Giants drive by forcing Victor Cruz to fumble at New England's 9. But the play was negated by too many Patriots on the field. Cruz caught a 2-yard TD two plays later.
"We had an opportunity to put this team away, and we didn't do it," said Patriots wideout Deion Branch, who nearly had a spectacular grab down the sideline on the final drive but couldn't get both feet down.
"So many opportunities that we didn't capitalize on that they gave us."
Even New England's much-maligned defense was solid, even though the first-quarter safety kept it on the field for 19 of the game's first 20 plays. New York had the ball for more than 37 minutes. After surviving the opening Giants salvo, the Patriots merely bent most of the night before intentionally breaking at the end of an 88-yard drive by allowing Ahmad Bradshaw to score with 57 seconds left in order to get the ball back with a chance to win.
Gronkowski, who suffered a high ankle sprain in the AFC title game, wasn't much of a factor despite claming he was 100% after the game. After setting single-season records at his position in 2011 with 1,327 receiving yards and 17 TD catches, he was targeted just three times by Brady, catching two balls for 26 yards. He was not able to outmaneuver linebacker Chase Blackburn on Brady's interception at the Giants 8-yard line on the second play of the fourth period.
"He just made a good play," said Gronkowski. "He boxed me out pretty well."
Branch lamented his teammates' children having to endure the loss when they return to school Monday. He was even more downcast realizing the team couldn't give owner Robert Kraft his fourth Lombardi Trophy to cap a season that began with the death of his wife of 48 years, Myra, after a bout with cancer just before the lockout's resolution last July.
Said Branch: "The entire season was for her."